Blog
OFF-ROAD UTILITY TRAILER
2016-12-14 09:09:14
admin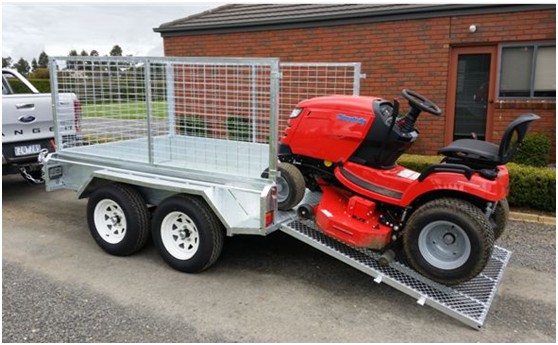 Since the company began in 2009 XTM has been to progress the trailer industry through design innovations - improving the product and value that consumers deserve.
There are some off-road style trailers on the market. Many trailers are designed toward a specific purpose and are not a utility trailer. Typically these off-road trailers are designed specifically for expedition/camping type use. The trailers are small and designed to carry certain equipment such as a sleeping tent, or spare drinking water, tools and fuel, and just the bare essentials needed for extended camping. The following are examples of current commercially available options for Utility Trailers, and off-road utility trailers.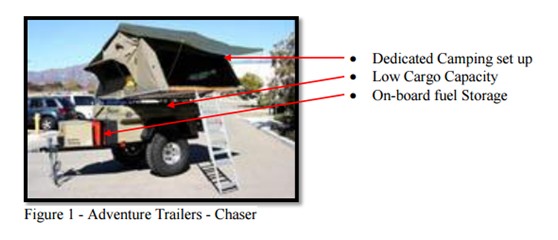 OFFROAD TRAILERZ OPTION
Offroad Trailerz (figure 2) is a manufacturing facility that creates custom trailers according to the buyer's request. The biggest problem with this manufacturer is the cost too high. This base trailer has many of the features that are desired in an off-road utility trailer except size. It is not quite big enough to accommodate an ATV.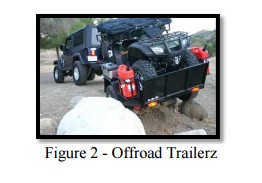 This picture shows that this trailer is the best choice to a true off-road utility trailer. The best quality of this manufacture's trailer is utility. This particular trailer pictured has a fold down rear-gate, storage for extra gas, tools/supplies, and also enough cargo capacity to carry larger objects, such as an ATV.
TENTRAX TRAILERS OPTION
Tentrax(figure 3) took a different approach to the design of their trailers. They make their trailers out of fiberglass to save weight and give the trailer a cleaner look. Tentrax, like many of the Off-road Trailer Manufacturers, design their trailers specifically for overland expedition and camping trips.
This picture demonstrates that Tentrax has a very clean looking trailer. Their trailers are light-weight and they mimic the jeep rear-end giving it that factory matching look. Tentrax trailers have great ground clearance allowing up to 35" tall tires. They have a "roof-rack" mounted on the fiberglass top which allows for extra storage. It also has a large weight capacity rating. The negatives of this trailer are too expensive. It is purpose built for camping and overland expedition, small cargo-size capacity.
SIERRA 4X4 TRAILERS OPTION
As one can tell from the name, Sierra 4x4 Trailers (figure 4) specialize in Off-road Trailers. They build everything from utility to camping/expedition trailers. Their trailers are a bit cheaper than the other manufactures, starting at around three-thousand dollars for the basic trailer and going upwards of ten-thousand an optioned out trailer. Figure 4 - Sierra 4x4 Trailers Sierra's trailers have a very simple design, and they have a very clean finish. They are styled after older military ¼ ton trailers. They have great ground clearance and are made to be very durable while performing on and off- road. The downsides are their utility based trailer lacks the capacity to hold larger objects such as ATV's. There is no folding rear-gate.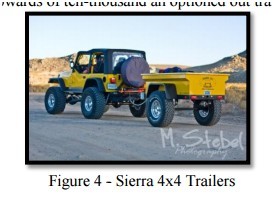 TRACTOR SUPPLY OPTION
Tractor supply (figure 5) sells the typical utility trailer that is used today. This trailer is specifically designed for on-road use. It has a low ground clearance and small wheels/tires. It also has an easy to use lowering rear gate for easy loading which is typical of road use only trailers.
This picture shows that the trailer obviously would not survive off-road very long. However, there are some positives about this type of design. It has an easy to clean mesh floor that allows debris from to fall through when doing tasks such as, hauling wood or mulch. The trailer is also designed using angle iron to make up the majority of the frame. When coupled with the mesh floor, this design layout helps keep the weight of the trailer down, which is a big benefit for smaller vehicles lacking the power for towing. Another good design element is the fold down rear-gate for easy loading. This trailer option is also the cheapest.
SUMMARY
It shows that there are many commercially available options however these options are not a financially viable option for most people and not utility purposed.
Please check www.xtmmoto.com our XTM on road and off road trailer options such as single axle and tandem trailer, Timber Trailer, garden trailer, ATV trailer etc…