About Us

Sinomach Extreme Moto(Shenzhen) Co., Ltd. here named as XTM, our factory Taizhou Sinomach Extreme Moto Co., Ltd. located in Taizhou, Zhejiang, is a professional manufacturer and exporter of the most high quality Electric scooter, Electric bike, Go kart, buggies, ATV, UTV, tracked ATV, and the accessories like trailers, and other offroad products. Most of our products have EPA, CARB, EEC, and CE Certificates. Our company's annual sales amount is more than USD 5,000,000. With 9 years of manufacture and export experience, we can also provide ODM, OEM and Agent services to our customers over the world. Our main markets include North America, Europe, Australia, South Africa, Russia, Middle East and South America. The purpose of XTM is to supply quality products, competitive prices and prompt delivery according to customers' requirements to keep them competent. XTM hope to grow with partners all over the world and enjoy mutual benefits with you. Please feel free to contact us: Phone:+86-755-29357029 Mobile:+86 13316475675 (Ella) Email: sales@xtmmoto.com ( Sunny ) sales01@xtmmoto.com ( Ella )
Products
Off Road Trailer For ATV Hunting With Lids
Brand:

XTM

Item NO.:

OD-09

Order(MOQ):

1

Product Origin:

Zhejiang

Color:

Silver

Shipping Port:

Ningbo

Lead Time:

15-20 days
contact now
Off Road Trailer For ATV Hunting With Lids
XTM OD-09 is an Dual axle ATV Garden trailer build based on OD-10 trailer with heavy duty but light weight, wide flotation tyres and high ground clearance making them ideal for off road use.

OD-09 special with lids to prevent any muds and dusty get into the trailer.
Removable front & rear tail gate and easy central tipping base further enhance their cargo handling capability.
Suitable for a variety of uses including: Forestry, Farming, Garden, Equestrian, ATV&UTV tow behind.
Trailer with a 800kgs load capacity on a regular/daily basis.
Trailer lids with a 150kgs load capacity on a regular/daily basis.
Additional bracing struts/ side support, Galvanised steel mesh cage and jack, spare tyre also optional.
Powder coating (colors optional), plating or galvanizing Surface Treatment optional.


Key Features:
Lid on top of trailer box
Lid load capacity 150 kgs
Tandem axle atv garden tipping trailer
1.5mm galvanized sheet
Box size: 1500x950x450mm
Easy Lift Tipping
Tail Gate Removable - At Front And Back
Off road use only

.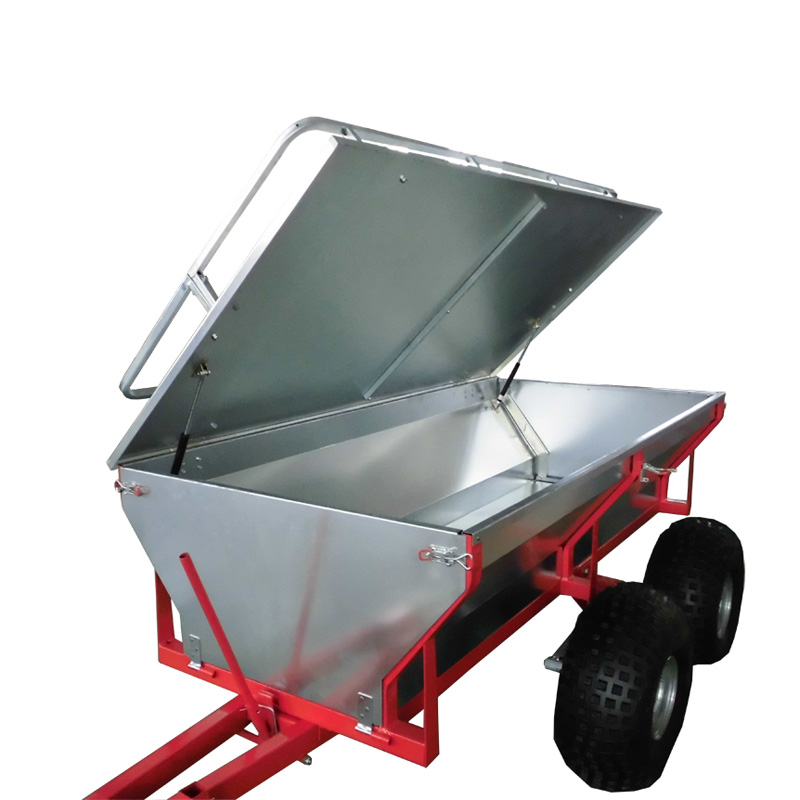 The

Specification About Off Road Trailer
Model No.: XTM-OD-09
Material: Q235
Box Size: 2000mm×1000x450mm
Box Volume: 0.7m³
Draw Bar Length: 950mm
Draw Bar Materia: 60mm×40mm×2.5mm
Box Material: 1.5mm galvanized sheet
Net Weight: 186kgs
Load Capacity: 800kg
Tyre: 22×11-8(optional)
Surface Finish: Powder coating (colors optional), plating or galvanizing
Coupler: ø50mm, 2000kg
Packing: Bulk or iron frame, single cardboard packaging
Warranty Time: 12 months(not including tire)

Related Products
Quad UTV Trailer ATV Tow Behind

XTM OD-01 is an atv tow trailer with heavy duty but light weight, wide flotation tyres and high ground clearance making them ideal for off road use. Removable front & rear tail gate and easy central tipping base further enhance their cargo handling capability.

Read More
Off Road ATV Trailer Manuafacture

XTM OD-10 is an Dual axle ATV Garden trailer with heavy duty but light weight, wide flotation tyres and high ground clearance making them ideal for off road use. Removable front & rear tail gate and easy central tipping base further enhance their cargo handling capability.

Read More
Heavy Duty Dump Trailer For ATV

XTM OD-11 is an Dual axle ATV Garden trailer with heavy duty but light weight, wide flotation tyres and high ground clearance making them ideal for off road use. OD-11 special equipped with two gas spring, gives you a more easy tipping. Removable front & rear tail gate and easy central tipping base further enhance their cargo handling capability.

Read More