About Us

Sinomach Extreme Moto(Shenzhen) Co., Ltd. here named as XTM, our factory Taizhou Sinomach Extreme Moto Co., Ltd. located in Taizhou, Zhejiang, is a professional manufacturer and exporter of the most high quality Electric scooter, Electric bike, Go kart, buggies, ATV, UTV, tracked ATV, and the accessories like trailers, and other offroad products. Most of our products have EPA, CARB, EEC, and CE Certificates. Our company's annual sales amount is more than USD 5,000,000. With 9 years of manufacture and export experience, we can also provide ODM, OEM and Agent services to our customers over the world. Our main markets include North America, Europe, Australia, South Africa, Russia, Middle East and South America. The purpose of XTM is to supply quality products, competitive prices and prompt delivery according to customers' requirements to keep them competent. XTM hope to grow with partners all over the world and enjoy mutual benefits with you. Please feel free to contact us: Phone:+86-755-29357029 Mobile:+86 13316475675 (Ella) Email: sales@xtmmoto.com ( Sunny ) sales01@xtmmoto.com ( Ella )
Products
Longest Range Electric Motorcycle 3000W 40Ah
Brand:

XTM

Item NO.:

EM001

Order(MOQ):

1

Product Origin:

Zhejiang

Color:

Red

Shipping Port:

Ningbo

Lead Time:

15-20 days
contact now
Longest Range Electric Motorycycle 3000W 40Ah
From the point of view on appearance, XTM-EM001 electric motorcycle is almost no difference from the fuel motorcycle, and the appearance of the motorcycle electric is cooler than the fuel motorcycle, it is a favorite of many young friends.
Electric motorcycle is environmentally friendly travel tools. That's why it will not produce any harmful gases and substances to the environment on the travel time. Naturally it will not cause some damages to us and environment any adverse effects. Fuel-powered motorcycle will produce harmful gases, therefore it is not environmentally friendly way to travel.

1. LED light, with high luminous intensity
Longer use life, maintenance free, low energy consumption, good vibration resistance, better than tradition light.
2. The adjustable front disc brake handle of electric motorcycle, it is convenient in operation.
3. Use high quality tyre to ensure safety and riding comfort.
4. Fashion design, high-speed, durable, economic and environmental
5. Powerful Motor
No maintenance required. Brushless motor has high reliability, good stability, strong adaptability and simple maintenance.
Motor: 3000W
Feature: Brushless
Voltage: 72V20AH
6. Headlight
The bright headlight can protect you safely when you driving at night.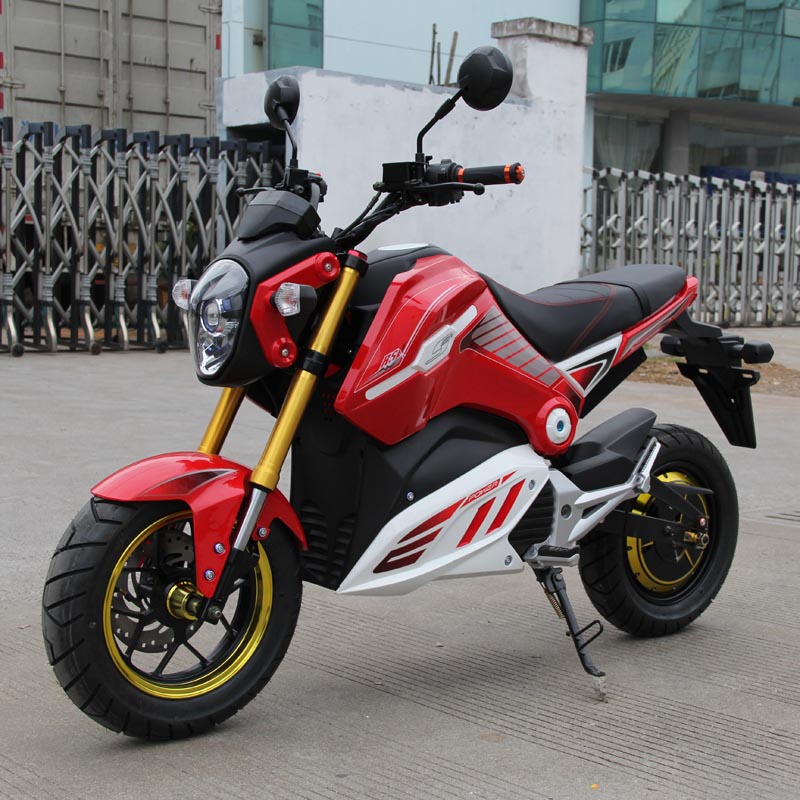 The

Specification About Electric Motorcycle
Model NO.: XTM-EM001
Tire: 12"
Rated motor power: 3000W
Rated speed: 70KM/H
Frame: Steel
Distance per charge: >60km
F/R brake FRONT: DISC,REAR: DISC
Charging time: >10h
Battery: 72V20AH
Carton Dimension: 1710*600*840MM
HQ: 78pcs
Related Products
Electric Sports Motorcycle For Adults 1000W

XTM-EM002 is fashion design, high-speed, durable, economic and environmental. No maintenance required. Brushless motor has high reliability, good stability, strong adaptability and simple maintenance. Motor: 1000W Feature: Brushless Voltage: 72V/20Ah

Read More
Best Electric Powered E Motorbike

XTM-EM004 with the adjustable front disc brake handle of electric powered motorbike, it is convenient in operation. It has the 3000w brushless hub motor, can running 80km per charging and the max speed is 70km/h.

Read More
50cc 3 Wheel Gas Scooter Trike Motorycycle

XTM-50TKC 3 wheel motorcycle is designed with safety and stability in mind-it provides more road grip and more stability. It is equipped with a 50cc 4-stroke engine that is much quieter, cleaner, and lasts longer than comparable 2-stroke engines.

Read More