About Us

Sinomach Extreme Moto(Shenzhen) Co., Ltd. here named as XTM, our factory Taizhou Sinomach Extreme Moto Co., Ltd. located in Taizhou, Zhejiang, is a professional manufacturer and exporter of the most high quality Electric scooter, Electric bike, Go kart, buggies, ATV, UTV, tracked ATV, and the accessories like trailers, and other offroad products. Most of our products have EPA, CARB, EEC, and CE Certificates. Our company's annual sales amount is more than USD 5,000,000. With 9 years of manufacture and export experience, we can also provide ODM, OEM and Agent services to our customers over the world. Our main markets include North America, Europe, Australia, South Africa, Russia, Middle East and South America. The purpose of XTM is to supply quality products, competitive prices and prompt delivery according to customers' requirements to keep them competent. XTM hope to grow with partners all over the world and enjoy mutual benefits with you. Please feel free to contact us: Phone:+86-755-29357029 Mobile:+86 13316475675 (Ella) Email: sales@xtmmoto.com ( Sunny ) sales01@xtmmoto.com ( Ella )
Products
Sport Motorcycle Manufacture 400cc
Brand:

XTM

Item NO.:

400-2

Order(MOQ):

1

Product Origin:

Zhejiang

Color:

Black

Shipping Port:

Ningbo

Lead Time:

15-20 days
contact now
Sport Motorcycle Manufacture 400cc
XTM NEW Hot 400cc motorcycle now is coming to us. You will get A new impression on this XTM 400-2 motorcycle after completely browsing details.
Features:
1. 400cc double cylinder water-cooled engine, DELPHI EFI system, maximum power 25.5km/8200rpm, maximum torque of 35.5N.m/5500rpm, strong power output, Let you arbitrary.
2. The brand new high rigid cradle frame made under automotive technology and strict standards, ensuring high rigidity and unparalleled stability.
3. XTM 400-2 directly use spindrift style double disc with floating disc, the front brake pump using a pair of one-way double piston, brake hose steel, Multi-segment adjustable Hydraulic spring shock absorber.
4. Rear brake use spindrift style single disc with one-way single piston.
5.Inverted front shock absorber top with dual channel adjustable according to driving habits.
The handmade Aluminum Alloy muffler design with high four cavity, unique jet voice, let every voice controlled ones enjoy pleasure.
6. Four square exhaust pipes make the design of XTM400 is more cool and reliable.
7. At the front and the back of XTM-400-2, height: 1980mm Length*800mm width*1155mm ,
seat height: 820mm and minimum ground clearance 170mm.
8. Multifunctional Instrument with temperature warning, EFI fault warning, fuel volume, gear display, time, km / mile switchable. Mirror embedded LED steering lamp,
9. The Rear flat fork is a flat shaped one piece of forming steel, while the top of the fork with welding Stiffener also significantly enhance the rigidity and durability of the rear fork. The gold alloy chain also adds a color to the car.
10. Up foldable RH and LH pedals,
11. More robust all-plating side support.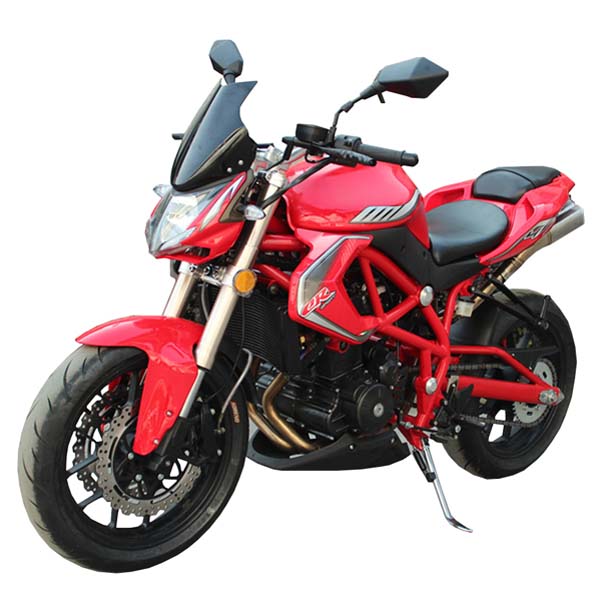 The Specification About Cub Scooter
Model: XTM400-2
DIMENSION (L×W×H mm): 1980×800×1155
SEAT HEIGHT(mm): 820
MIN. GROUND CLEARANCE(mm): 170
ENGINE TYPE: 2 CYLINDER, WATER-COOLED
DISPLACEMENT(ml): 394
BORE×STROKE (mm): 63.5×62.2
COMPRESSION RATIO: 10.5:1
MAX. POWER(kw/rpm): 25.5/8200
MAX. TORQUE(N.m/rpm): 35.5/5500
FUEL SUPPLY MODE: ELECTRONIC FUEL INJECTION SYSTEM
EFI SYSTEM BRAND: DELPHI
MAX. SPEED(km/h): 120
GEARSHIFT MODE: WET, MULTI-PLATE, 6 FRONT SPEED CHAIN DRIVE, MANUAL GEAR
DRY MASS (kg): 187
FUEL TANK CAPACITY(L): 16
BRAKE MODE: FR: DOUBLE DISC, RR: SINGLE DISC
SHOCK ABSORBER: FR: INVERSION DOUBLE SHOCK ABSORBER
RR: ADJUSTABLE SINGLE SHOCK ABSORBER
TIRE SIZE: FR: 120/70ZR17M/C (CHENG SHIN)
RR: 160/60ZR17M/C (CHENG SHIN)
Related Products
400cc Street Motorcycle Best Motor Bikes Balck

Maybe this hot styling is not very fancy already, but when you have a new impression on this XTM-400 Motor Bikes after completely browsing details. A Sengoku period of motorcycles with more reliable instead of grandiose here comes.

Read More
Hammerhead Mini Shark Go Kart Mini Bike Red

XTM off road go kart is simple operation go kart. This mini go karts is suitable for children more than 6 years old.. Designed best hammerhead offroad go kart for kids is our mind, it can tackle steep banks and hillsides to thick muddy tracks! You can set the desired speed when you controls define simplicity with stop / go footpedals and a throttle restrictor.

Read More
Tandem Timber Ski Sleigh For ATV UTV Snowmobile

XTM OS-02 tandem timber ski sled / sleigh is able to carry logs up to 5 meters long and transport heavy loads even through deep snow. High-quality suspension makes the trailer easy to drive also in challenging terrain.

Read More