About Us
Sinomach Extreme Moto(Shenzhen) Co., Ltd. here named as XTM, our factory Taizhou Sinomach Extreme Moto Co., Ltd. located in Taizhou, Zhejiang, is a professional manufacturer and exporter of the most high quality Electric scooter, Electric bike, Go kart, buggies, ATV, UTV, tracked ATV, and the accessories like trailers, and other offroad products. Most of our products have EPA, CARB, EEC, and CE Certificates. Our company's annual sales amount is more than USD 5,000,000. With 9 years of manufacture and export experience, we can also provide ODM, OEM and Agent services to our customers over the world. Our main markets include North America, Europe, Australia, South Africa, Russia, Middle East and South America. The purpose of XTM is to supply quality products, competitive prices and prompt delivery according to customers' requirements to keep them competent. XTM hope to grow with partners all over the world and enjoy mutual benefits with you. Please feel free to contact us: Phone:+86-755-29357029 Mobile:+86 13958662281 (Sunny Shen) Email: sales@xtmmoto.com ( Sunny Shen )
Products
Mini Folding Electric Bicycle Lightweight 48v
Brand:

XTM

Item NO.:

EB002

Order(MOQ):

1

Product Origin:

Zhejiang

Color:

Green

Shipping Port:

Ningbo

Lead Time:

15-20 days
contact now
Mini Folding Electric Bicycle Lightweight 48v
XTM folding bike are very convenient without the hassle of worrying about parking or gas. If you like to go out and play, maybe you want a bike that can be stored in a small place.

It is amazing how small some of these folding e-bikes can be when they are completely folded up! If you want a bike, but home space is limited, folding electric bikes is the best choices.

XTM-EB002 with the 350 W motor, 48V/10.4 mAh battery and the weight of folding electric bicycle is only 30 kg. Don't worry about it too small, it can range of 40 km and top speed of 35 km/h. What's more, it can climbing 30°. We think, you will like it!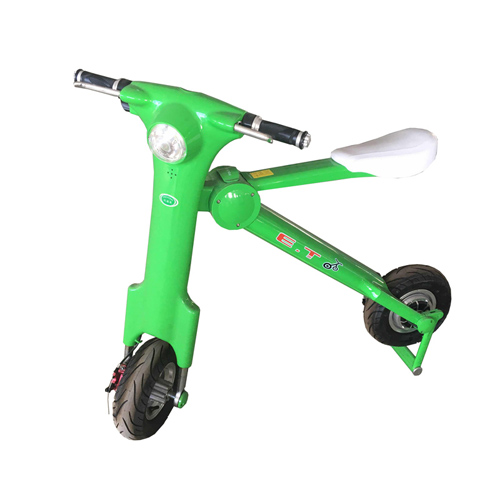 The Specification About Folding Bike
Model NO.: XTM-EB002
Battery: Li-ion, 48V/10.4A
Motor: 350W/48V
Weight: 30kg
Load: 150 kg
Charging time: 3-5h
Max speed: 35km/h
Drive distance: 35-40 km
Climbing degree: 30°
Max steering angle: 90°
MOQ: 50Pcs
OEM: 72Pcs
Color: red,black,white green,golden,blue,watercolor, etc
20 feet container: 72pcs
40 feet container: 160Pcs
Dimension: 117*58*98cm
Box size: 123*70.5*35cm
Related Products
Lightweight Folding Electric E Bike 250w

XTM-EB001 E bike with the 250W motor, 36V 7.8AH Lithium Battery and the weight of smallest folding bike is only 13 kg. Lightweight folding electric bike can range of 35 km and top speed of 25 km/h. What's more, it can loading 120kg.

Read More
Fast Electric Folding Bicycle For Adults

XTM-EB003 is very popular and fashion lightweight electric folding bike. It has the 250W motor, 36V 8AH battery and the weight of electric bicycle is only 15kg. Don't worry about it too small, it can range of 35 km and top speed of 25 km/h. What's more, it can loading 120 kg.

Read More
Petrol Road Legal Buggy 300cc Water Cooled Blue

XTM road legal buggy is simple operation buggy kart. This buggy petrol is 2 seater buggy. Designed best road legal buggy in our mind, it can tackle steep banks and hillsides to thick muddy tracks! You can set the desired speed when you controls define simplicity with stop / go footpedals and a throttle restrictor.

Read More