About Us
Sinomach Extreme Moto(Shenzhen) Co., Ltd. here named as XTM, our factory Taizhou Sinomach Extreme Moto Co., Ltd. located in Taizhou, Zhejiang, is a professional manufacturer and exporter of the most high quality Electric scooter, Electric bike, Go kart, buggies, ATV, UTV, tracked ATV, and the accessories like trailers, and other offroad products. Most of our products have EPA, CARB, EEC, and CE Certificates. Our company's annual sales amount is more than USD 5,000,000. With 9 years of manufacture and export experience, we can also provide ODM, OEM and Agent services to our customers over the world. Our main markets include North America, Europe, Australia, South Africa, Russia, Middle East and South America. The purpose of XTM is to supply quality products, competitive prices and prompt delivery according to customers' requirements to keep them competent. XTM hope to grow with partners all over the world and enjoy mutual benefits with you. Please feel free to contact us: Phone:+86-755-29357029 Mobile:+86 13958662281 (Sunny Shen) Email: sales@xtmmoto.com ( Sunny Shen )
Products
Adult Gas Motor Scooter 150cc Red
Brand:

XTM

Item NO.:

150T-3A(III)

Order(MOQ):

1

Product Origin:

Zhejiang

Color:

Red

Shipping Port:

Ningbo

Lead Time:

15-20 days
contact now
Adult Gas Motor Scooter 150cc Red
This sporty Scooter 150cc offers a modern elegant design with a mixed of sporty aggressive dual headlights style. The scooter is powered by 150cc, air-cooled, 4-stroke engine to produce good strong power for acceleration while keeping a good gas mileage. The scooter also equipped with electric/kick starting method, high performance aluminum exhaust pipe, dual stage paint treatment, high quality polyurethane seat.
As for the safety features, the scooter comes with powerful front ABS antilock brake system and rear drum brake to provide the best stopping power, it will automatically cuts the engine so you can stop easily. For convenience, the easy to use twist and go throttle acceleration gives simplicity while driving.
The 150cc scooter is the perfect choice for those who are looking for a fuel efficient reliable transportation to get around the town. it gets up to 80mpg for a great fuel efficiency transportation.
Features:
1. 150cc Air Cooled Single Cylinder Four Stroke Engine:
With a fully automatic transmission this compelling engine provides power and control.
2. Electric/Kick Start:
With two ways to start your scooter; it is always great to have reliable back-up in any situation.
3. Front ABS antilock brake system:
excellent braking at any speed; giving you the safety you need.
4. Dependable Rear Drum:
Reliable rear drum allows for smooth stopping at any given moment.
5. Clear and Direct Instrument Panel:
You can easily and clearly view the speedometer, turn signals, fuel gauge and battery gauge making for a more efficient ride.
6. Spacious Storage Unit:
Lockable and secure, under the seat you can find room to store many things while you commute from place to place.
7. High Performance Exhaust Pipe :
Aluminum high performance exhaust pipe add the finishing touch to this already elegant design scooter.
8. Headlights:
Bright enough to get you through any time in the evening. Beautifully designed to catch your eyes.
9. Taillight:
Emitting bright light so all drivers behind you can see you even in the darkest of nights.
10. Rear-View Mirrors with built in turn signals:
Wider and stylish mirrors allow for great visibility to clearly see others when you are changing lanes.
11. Durable Seating:
Have an enjoyable ride resting on this very comfortably padded seat.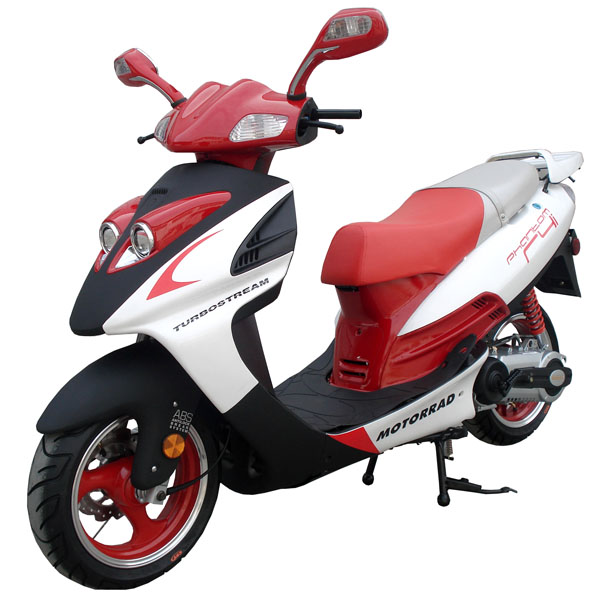 The Specification About Scooter 150cc
Model: JL150T-3A(Ⅲ)
DIMENSIONS(L×W×H) (mm): 1970×700×1110
WHEEL BASE (mm): 1350
GROUND CLEARANCE (mm): 130
NET WEIGHT (kg): 115
MAX.SPEED (km/h): 80
MAX.LOAD ALLOWED (kg): 140
ENGINE TYPE: SINGLE CYLINDER, AIR-COOLED, 4 STROKE
ENGINE MODEL: JL157QMJ
STARTING: ELECTRIC/KICK STARTER
WHEEL SIZE: F:130/60-13 R:130/60-13
Related Products
EPA 50cc Gas Motor Scooters China Black

XTM 50QT-13 is 50cc Scooter has sporty sleek lines, combined with economic fuel consumption. The sporty 4 stroke 50cc engine has great performance, making it the ideal 50cc Scooter for zipping around. All you have to do is twist and go! on't let the smaller engine fool you. This scooter has 50cc and is great for every-day transportation. Run errands around town or cruise across a college campus.

Read More
EPA Adult Street Scooter Moped 50cc Wholesale Blue

XTM-50QT-41 50cc Scooter has sporty sleek lines, combined with economic fuel consumption. The sporty 4 stroke 50cc engine has great performance, making it the ideal 50cc Scooter for zipping around. All you have to do is twist and go!

Read More
Cheap Adults Scooter Motor City Scooter Blue

XTM-125T-31D Scooter Motor with power from a 125cc, 4-stroke engine, the 125T-31D is your ticket to self-reliance. Colors optional, red, balck, blue, white…

Read More