About Us
Sinomach Extreme Moto(Shenzhen) Co., Ltd. here named as XTM, our factory Taizhou Sinomach Extreme Moto Co., Ltd. located in Taizhou, Zhejiang, is a professional manufacturer and exporter of the most high quality Electric scooter, Electric bike, Go kart, buggies, ATV, UTV, tracked ATV, and the accessories like trailers, and other offroad products. Most of our products have EPA, CARB, EEC, and CE Certificates. Our company's annual sales amount is more than USD 5,000,000. With 9 years of manufacture and export experience, we can also provide ODM, OEM and Agent services to our customers over the world. Our main markets include North America, Europe, Australia, South Africa, Russia, Middle East and South America. The purpose of XTM is to supply quality products, competitive prices and prompt delivery according to customers' requirements to keep them competent. XTM hope to grow with partners all over the world and enjoy mutual benefits with you. Please feel free to contact us: Phone:+86-755-29357029 Mobile:+86 13958662281 (Sunny Shen) Email: sales@xtmmoto.com ( Sunny Shen )
Products
3 Wheel Mobility Scooter For Elderly Electric
Brand:

XTM

Item NO.:

ET001

Order(MOQ):

1

Product Origin:

Zhejiang

Color:

Red

Shipping Port:

Ningbo

Lead Time:

15-20 days
contact now
3 Wheel Mobility Scooter For Elderly Electric
XTM-ET001 Electric Mobility Scooter is a new type Mobility Scooter. It has a long-range of 35-40 km on a single charge and a top speed of 15 km/h / 25 km/h. It is great alternative to driving short distances or walking long distances. The small rear seat is perfect for a carrier. We are seeing these sold into city and all kinds of family settings as a walking tool. As with all kinds of electric vehicle products, 3 wheel mobility scooter only need single charge 6-8 h to get going.

This innovative electric tricycle is kind of environmental product, and also saves of human resources. It not only can carry people but also carry cargo, which is multi functional electric tricycle, and it is suitable for elderly and disabled person.
Key Feature:
1. Environmental protection and energy saving. Electric vehicles do not emit harmful gases that pollute the atmosphere.
2. 3 wheels are more secure than 2 wheel stems.
3. The max speed is 25km/h, more safety and smoothly.
4. The longest distance of XTM-ET001 is 35-40 km, each time only need to charging 6-8 hours.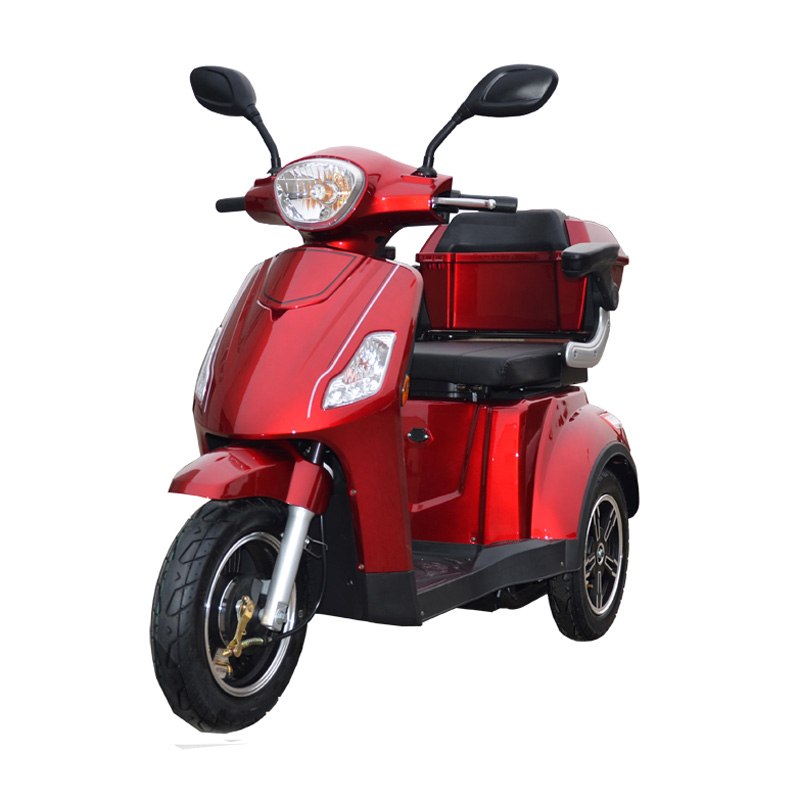 The

Specification About Mobility Scooters
Model NO.: XTM-ET001
Name: Mobility scooters
Tire: 10"*3.0 Vacuum Tire
Rated motor power: 400W Brush Motor / 500W Brushless Transaxle DC Motor
Rated speed: 15KM/H MAX / 25KM/H MAX
Grade ability: 20°
Frame: Steel
Distance per charge: 35-40kms
F/R brake: Front Hydraulic Fork / Rear Shocker
Charging time: 6-8h
Battery: 24V 28AH LEAD-ACID TYPE BATTERY / 48V 20AH LEAD-ACID TYPE BATTERY
Rated loading: 120kgs
Carton Dimension: 41" H X 29" W X 61" L
G.W: 91 kg
Related Products
Electric Disability Mobility Scooter 500w

This innovative electric tricycle is kind of environmental product, and also saves of human resources. It not only can carry people but also carry cargo, which is multi functional electric tricycle, and it is suitable for elderly and disabled person.

Read More
Fast 125 Scooter Gasoline Wholesale

125T-48 is superbly stylish with a quality fit and finish. It performs well, handles well and burns clean and economically. This sporty 125cc scooter comes with big tires, front hydraulic disc brake, which means that not only does it ride smoother and handle better but can easily handle two passengers.

Read More
Adult 500 Watt Electric Scooter For Girls

XTM-ES036 500 watt electric scooter is more lovely one, it has the lovely shape that many girls are very fond of this e electric scooter. Zero carbon, zero emissions, XTM-ES036 are equipped with the latest and most efficient electric charge.

Read More